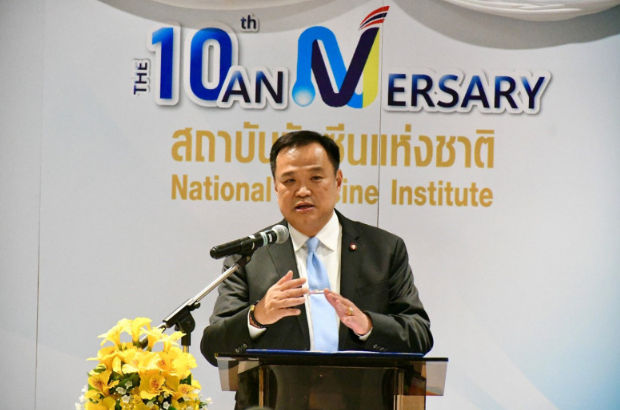 NVI celebrates its 10th anniversary
NVI reiterates its mission of developing national vaccine security
National Vaccine Institute (NVI) celebrated the 10th anniversary of its establishment (2012-2022) on August 11, 2022. In the afternoon,It organised a special keynote address by H.E. Mr. Anutin Charnvirakul, Deputy Prime Minister and Minister of Public Health, on the role of the institute and the next step for national vaccine security. The address was broadcast live via NVI's Facebook page with an objective to spread understanding of NVI's mission as the country's central agency for vaccines.
"Strong empirical evidence emphasising the significance of NVI underscores its key role in encouraging and concretely driving research and development of vaccines within the country in light of the Covid-19 pandemic, subsidised by the Ministry of Public Health, the cabinet, and the government," Mr. Anutin said.
NVI has implemented a framework to provide Thai people with access to the Covid-19 vaccine entitled 'Blueprint Access to Covid-19 vaccines for Thailand", which consists of three approaches.
Firstly, Thailand has built cooperation with the promised manufacturer at global level to receive technology transfer for research and development of vaccine manufacturing in Thailand as a standardised and safe production base and an alternative for enhancing the immunity of the people. At present, vaccines produced by Thai manufacturers are used to prevent the disease to a sufficient extent, and can be exported to other countries.
Secondly, the framework promotes and strengthens home-grown vaccines. Various organisations in Thailand have been funded to conduct research and development of vaccines. This serves to create fundamental, upstream production as well as developing personnel and elevating the country's vaccine infrastructure to prepare for unpredictable crises in the future.
Lastly, the country has procured qualified vaccines from global standard manufacturers with NVI as the main agency that provides information to the Ministry of Public Health so that the vaccines can control the pandemic in a similar progression to other countries without delayed. NVI also proposed the appropriate of vaccines on all platforms so that the country has a wide range of options to handle mutations of the virus (variants of concern) during different periods in the best scenario for the people.
'To achieve national vaccine security going forward, NVI will continue to help build confidence in vaccines among the public, so that the Ministry of Public Health can at all times smoothly provide healthcare for the people," Mr. Anutin concluded.